Commercial Locksmith Services
If its a commercial locksmith you require then Evolution Lock Service has you covered. Anything from a small commercial unit requiring a security upgrade to a large office building requiring a professionally designed master key system. We can design practical and user friendly locking security systems to meet almost any clients needs. Our qualified team of professionals bring their experience and know-how with them to every job. But what really sets our services apart from the rest of the industry is our attention to detail and receptiveness to the unique needs of each client.
Commercial Locksmith Needs
When it comes to your commercial locksmithing requirements you need to know that you have someone with the knowledge of the commercial sector, so you don't get caught out putting a system in place to then find out it doesn't fit in with fire regulations or building guidelines.  We have the most up to date knowledge on all aspects of commercial locksmithing and will ensure you have the most cost effective, yet secure system put in place tailored to suit your needs. We are 100% honest and transparent with our advice and pride ourselves in looking after our commercial clients.
Our commercial locksmithing services are as follows:
Repair, supply and installation of all locks
Rekeying of locks
Providing professional advice on upgrading your current system
Commercial Safe requirements
Real Estate locksmithing
Evictions/Lockouts
Master Key Systems
After hours Emergency Service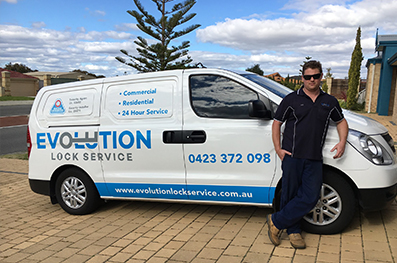 Frequently Asked Questions:
A master key system comprises of a master key which opens all locks to the premises/building and then other keys which have restricted access to certain areas of the building/premises.
Example:
Business owner and onsite manager have keys to access all locks

Sub master key group A has access to main office building and all doors within office

Subs to group A can only access their individual office doors

Sub master key group B has access to warehouse and all doors within warehouse

Subs to group B can only access their area within the warehouse ie – one for main floor, one to back office in warehouse
Keys cut and provided for the master key system can only then be cut by Evolution Locks Service and must be approved by the nominated person or persons that you have authorised to do so.  Therefore, this provides you the peace of mind and security that the keys can't just be cut by anyone.
Setting up a key register is the easiest and most simple way of keeping track of who currently holds which key and we recommend this be setup by all our master key system clients.
Of course it depends on the size of the job, however we can generally get out to you on the day and we carry a wide range of stock on hand so in most cases will not have to come back to complete the job.  We pride ourselves on efficient quality workmanship and ensure our clients are looked after.